Switch glass & switch film
Switch glass (or smart glass) and PDLC (Polymer Dispersed Liquid Crystal) adhesive films are innovative solutions that can effectively meet privacy needs.
They are frequently used for office glass walls but not only that, in fact they are also perfectly suited to hotels, hospitals and private residences.
Also protagonists in architectural projects thanks to their ability to reduce infrared rays, as happens with anti-heat films, reducing the overheating.
They block 99% of ultraviolet rays, protecting both people and furnishings and become particularly suitable for creating curtain walls and being exposed to direct sunlight.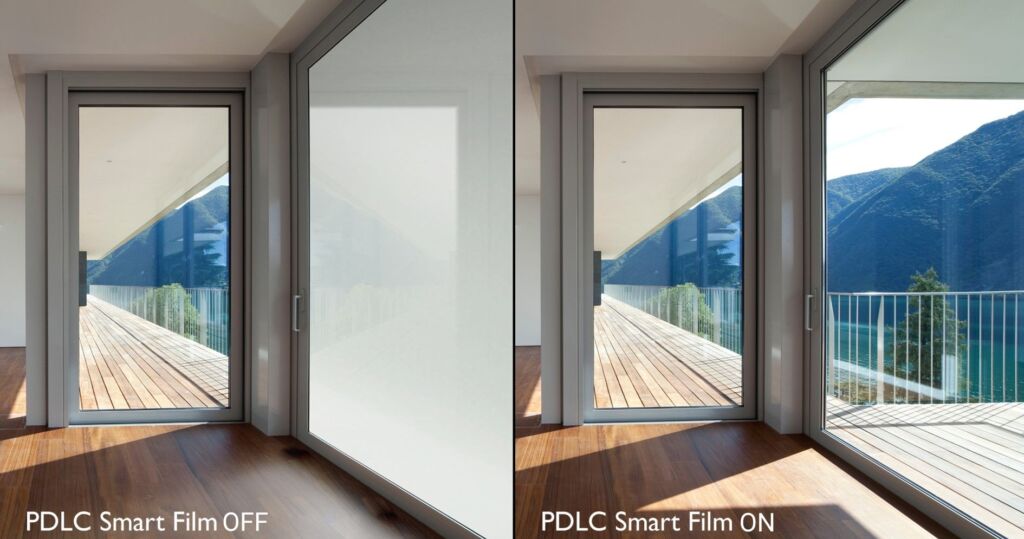 What are the advantages of switch films?​
First of all, privacy films can be applied to existing glass and offer the possibility of switching from glass transparency to opacity with a simple command.
They are compatible with the most popular home automation systems, but also with the most professional home & building automation tools.
You can manage privacy with a remote control, with a classic switch or with an app, even using the dimmer function.
This allows you to regulate privacy within offices, calibrating the percentage of opacity and transparency with ease.
When the films are opaque, they prevent vision through the glass but allow the light to diffuse and not darken the room.
This provides a private and non-oppressive environment, perfect for meetings or for carrying out tasks that require concentration.
When they are transparent, however, they allow natural light to filter into the spaces, creating an open and bright atmosphere almost similar to classic glass.
Not all electronic films have high transparency performance, there are many factors that affect the actual performance.
We are available for any comparison or test! If your goal is to have the highest transparency currently on the market, with the highest viewing angle, you will be satisfied with our polarized film.
Smart glass, also called switch glass, is an excellent privacy and office furniture solution. These glasses contain the same technology as adhesive films and are controlled with exactly the same devices.
The films are processed in Italy and shipped or installed all over the world. The customer who aims for performance, without tricks related to the increase in voltage which reduces its durability over time, can rely on us.
When the power is turned on, the glass goes from an opaque state to a transparent one, vice versa, when it is turned off it immediately returns to opaque.
Switch glasses can be used to create separate spaces in the office, such as telephone and video conference booths or private offices, ensuring the necessary privacy without sacrificing the passage of light into the rooms.
They can be elegantly integrated into office furnishings, adding a modern and sophisticated touch to spaces.
Furthermore, they allow you to make the most of natural light, reducing dependence on artificial lighting, contributing to energy saving and the well-being of those who spend many hours in the office.
Office walls, privacy and light control
With switch film and switch glass
In conclusion, PDLC films and smart glasses represent versatile solutions to meet privacy and furnishing needs in offices. They offer the flexibility to adjust light and transparency as needed, creating naturally bright environments when necessary and reserved spaces in other cases.
Thanks to their integration into work environments, they add a technological and elegant touch to office furnishings.
We can install adhesive privacy films on existing glass without replacing existing structures, or install complete office glass walls, already equipped with smart glass.
If you need to design your office with a particular privacy perspective, we can fully support you by providing both the design and installation service in Italy and abroad.
5 year warranty, performance, assistance.
Heat protection, window advertising
The electronic film, when turned off, appears opaque, does not consume energy and guarantees high privacy.
It prevents the view inside the rooms, but still maintains a good transmission of natural light by diffusing it softly. When it is turned on, however, it becomes transparent.
RPDLC (R=Reverse) film does exactly the opposite, remaining transparent when turned off and using electricity only during clouding.
You will also be able to install the smart film or smart glass in the shop window, in shopping centers, in exhibition spaces, in museums, increasing the possibility of attracting customers and users thanks to dynamic communication.
The film does not take up display space as it is extremely thin (0.26 mm) and in the opaque mode it can be used as a rear projection screen, showing passers-by useful information relating to promotions, new collections, important products, but also graphic effects for visual and artistic.
This functionality can be implemented using a good video projector, in the absence of direct sunlight.
Learn more about the uses and other features by clicking on the icons below, immerse yourself in smart technologies!
Brands that have chosen us How much is your data worth?​
It is estimated that approximately 34% of data breaches involve internal company employees, in some cases causing millions of euros in damages.
If you are looking for a solution for data protection, but do not want to opaque your windows using smart glass, you can request the installation of the new obscuring film for LCD screens: "Data Security Film".
It is a film that allows you to maintain an excellent level of transparency, with a smoky tint, non-electronic and therefore does not require cables or modifications of any kind to your structures, but capable of blocking the vision of LCD screens from external.
If you want to learn more about the features of this film, read the dedicated page by clicking the button below!