Switch Film & Smart Glass
The highest optical and energy saving performances
Thanks to continuous research on materials and the development of new technologies, we offer the best performing liquid crystal film (switchable glass & films) on the market available in both retrofit, i.e. adhesive, and lamination versions.
You will certainly find many of our competitors who will praise their product, as is normal, but we, thanks to the partnership with a famous international brand and the solid collaboration with an exceptional Italian partner, which customizes the film reels both in the measurements and in the installation of the busbars, provide with analysis and data in hand a product incomparable in its kind, perfectly tailored.
If your customers are extremely demanding and want the best privacy technology, you will find the support you were looking for in Brixia Tech. We supply you with a customized switchable glass or switchable film, equipped with a practical remote control and adaptable to offices, hospitals, shops and shopping centers but also private residences. If you prefer that we also take care of the installation, as well as the supply, we will obviously be at your disposal for a preliminary evaluation and possible installation.
Thanks to our glassmakers specialized in lamination of PDLC film, we can also provide you with switchable glass or smart glass, i.e. crystal clear glass with laminated LCD film.
You can request the advice of one of our representatives now to discover all the advantages and characteristics of switchable glass & switchable films!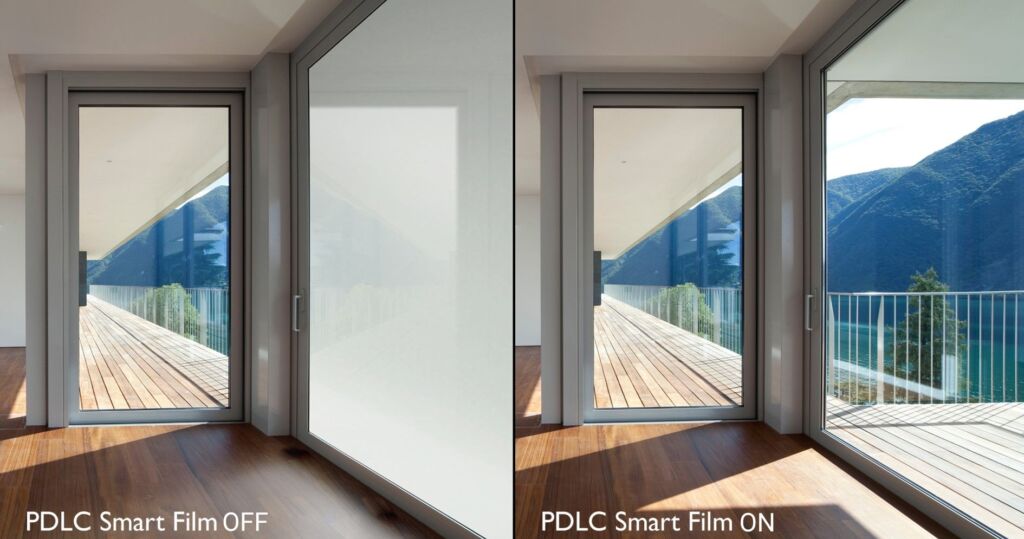 Switchable glass & film applications
PDLC films are used in different fields, we show you some examples
The switch film, when it is off, appears opaque, does not consume electricity and guarantees high privacy by preventing you from seeing inside the rooms, but still maintaining a good transmission of natural light so as not to remove brightness. If it is turned on, the film becomes transparent. RPDLC film (R=Reverse) does exactly the opposite, remaining transparent when turned off and using electricity only during opacification.
We supply complete switchable glass partitions designed in Italy, which best suit the customer's style in terms of design and functionality, and we can also supply smart glass only, produced to adapt to your projects.
You can also install the switch film in store windows, shopping malls, exhibition spaces, museums, increasing the chances of attracting customers and users thanks to dynamic communication. The film does not take up display space being extremely thin and in the opaque mode it can be used as a rear-projection screen in HD, showing passers-by useful information relating to promotions, new collections, important products, but also graphic effects for visual and artistic purposes. This feature can be implemented using a good video projector in the absence of direct sunlight.
Furthermore, thanks to the digital signage software and tools, you will be able to create scenarios by scheduling their playback even in several points of sale.
Learn more about the uses and other features by clicking on the icons below, immerse yourself in smart technologies!
5 year guarantee, performance, assistance.
Who we are and what we do
We are specialists in technologies dedicated to privacy and marketing devices, as well as energy saving. We position ourselves on the market as a partner of planners, architects and designers, providing both the installation of the adhesive film and the supply of the smart glass in Italy and abroad.
If you are an installer, a reseller or a service, we are the right partner for the supply of LCD films, smart glasses and all the other products in our catalogue.
Our "visual" branche can also provide assistance and technological products dedicated to the world of events such as LED walls and holographic films, the reproduction of multimedia contents such as displays and video projectors, digital signage and rich media advertising. We actively collaborate with organizers of artistic, sporting events and window dressers, if you wish to become our partner we will be at your disposal.
Visit the "other products" section to learn more about our catalog and if you have a need or a project you want to carry out, contact us, we will verify its feasibility by proposing the most suitable solutions for the purpose.